Greed is good? in a span dir equal auto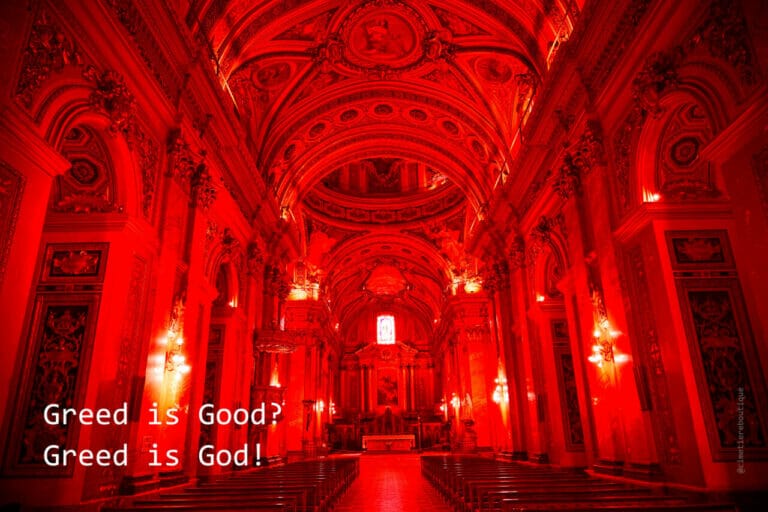 "Greed is good?", asked Jimmyz referring to a recently published article stating: "Brisbane real estate agency advises landlords to increase rents by over 20% amid housing crisis" (in a span dir auto)
greed is god! 🙂 BTW you're 'spending' too many letters Jimmy.
In platonian terms, the definition of the Good is a perfect, eternal, and changeless Form, existing outside space and time.
The first references that are seen in The Republic to the Form of the Good are within the conversation between Glaucon and Socrates (454 c–d). When he is trying to answer such difficult questions pertaining to the definition of justice, Plato identifies that we should not "introduce every form of difference and sameness in nature" instead we must focus on "the one form of sameness and difference that was relevant to the particular ways of life themselves" which is the form of the Good.
Jacquie B replied:
Uros W Stern well buy your own property then ..it is not like there aren't jobs out there and YES. .You do have to live simply for a few years to own a property ,but this expectation that others do that work for renters is ridiculous!
It seems that: Greed is God! carries some affectionate response.
Jimmyz continued:
I don't think U had any issue with you. The main point here is rentals just jumped 20% according to one real estate agency. This is not matching job and wage growth at all. It's pure greed. Because a computer said so. Maybe we should all quit our jobs and apply for managerial jobs instead now. But there are only so many CEO jobs available.
It doesn't work. The whole property system is unsustainable. Game of musical chairs for an increasing few. We've been down the paths of this before, it was called The French Revolution. No one is saying you don't work hard, but there is a point when property costing the biggest slice of the average household income compared to only a few decades ago when it didn't, there is clearly something wrong with the system. Just sayin'.
Many parents cannot afford to work executive high paid salary roles PLUS raise a family.
Meanwhile, we will keep applying for CEO positions to keep up with the rising cost of housing.
I work 14 hours a day. Maybe I should work harder too.
But, honestly, the property system and housing unaffordability do not affect us in the least.
We live in Tiny Houses fully paid off on a great landshare agreement where we are simultaneously improving the property with organic gardens and track upgrades and tourist accommodation. It's a win-win situation. Everyone should think like this. We have been saying it for years 🙂
I could always only 20% understand the conceptual ground behind Jimmyz constructive thought processes, but could always pick an additional 20% rise in the implicit attempt on promoting it.
Society as such, right now, needs a core re-evaluation.
The valuation of the human being, and of its life or living itself, treated only by and through naturalised 'properties' as 'work', 'job', 'money', 'rent', is obedient to the rules set by the sustainably harsh, although 'humanised' environment with dominant actors as 'consumption', 'market', 'public', 'profit', 'tax' etc ..
So the question 'Greed is good?', as from JH, is put forth against these 'terms' of 'ownership' of the 'premise' of 'living' just between the 'fiscal', 'financial' and uninterestingly 'profitable' agreements: where promises of any 'positive rise' (20%) are absurd as the fact when too many letters are spent. In short: Greed is god! (also in terms of 'working harder', 'working for money', 'working to buy' etc - what do these terms actually relate to?) ..
Jimmy H is a driving force of change. Without reservations. While mentioning 'working 14 hours a day' I assume, in his experience, that is a different kind of 'work'. Working for a change maybe?
And sorry Jacquie Brydon if my statement affected any experience you're going through, so I would suggest re-visiting the value of those experiences and re-evaluating your own affectionate goals.
I'm happy if that helps 🙂
In short: Greed is god! (esp in the AU property market with so much space but providing so little as some pre-fabricated answers?)
Epilogue:
In platonian terms, the definition of the Good is a perfect, eternal, and changeless Form, existing outside space and time. In the ordinary chatolic or christian or even common baptist terms the same definition can be, if not fully applies to God. So between these two, the question "Greed is good?" equals the answer "Greed is g-d" (Used g-d to be applicable to other faithful backgrounds)
Under these terms, and within expectations and fears they're causing, the 'money' religion has some solid postulates ..