May 45: Do We Need More Traffic?
we need more of that.
it's a symphony.
it's angelic.
it's a thunder,
it's a choir,
it's an intervention of pure will.
as sometimes it is enough just sitting by it
to calm you with assurance, and long reach
but some other time it is impossible.
we need more of that.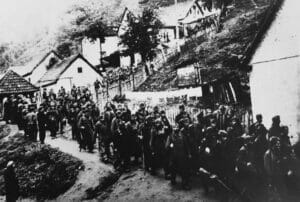 put your shoes off and dance away
by the music of its thundering strike
far away, far away
through its fire, into the light, into the day,
into the deepest corners of the neverending night.
V spomin:
"Nad Evropo je legel mir. Nacistična Nemčija je bila premagana in ponižana z dvojnim podpisom brezpogojne kapitulacije. Zmagovalci so se počasi začeli vračati domov, poraženci pa so sklonjenih glav korakali v ujetništva. Tako je bilo povsod po stari celini, razen v Jugoslaviji, natančneje – na ozemlju današnje Republike Slovenije. Tu so se srditi in brezupni boji nemške armade E in njenih domačih zaveznikov nadaljevali do zadnjega."
Povezava do zgornjega besedila >